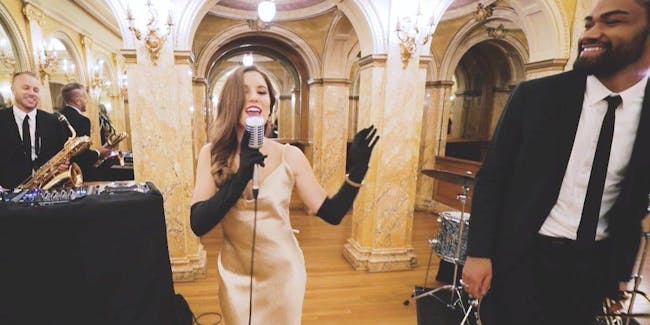 New Years Eve Roaring 20's Party for 2020!
Gatsby Style New Year's Eve with Gold Standard
$100.00 - $175.00
Sales Ended
It's time to ring in a new year, a new decade, and a new edition of the 'Roaring 20's'! Let's Swing!
Celebrate New Year's Eve at our Gatsby-esque NYE dance party in OP Rockwell. (for AGES 21+ ONLY)
This party promises dancing and celebration for adults. It's gonna be a Roaring 20's Gatsby-theme set to the live swinging sounds of Gold Standard, playing remixed and updated Jazz standards that combine jazz and pop vocals with live drums, DJ, sax, and flute. Dress for the era, dress your best, or enjoy whatever look you decide.(No need to email with questions- wear whatever you want-there's no dress-code in Park City!)
Gold Standard's sound is a danceable jazz/electro/soul hybrid, drawing from influences like Frank Sinatra, Gnarls Barkley and Daft Punk. Because they incorporate a skilled DJ in the mix, Gold Standard plays light nostalgic jazz classics plus remixed dance tracks with their award winning DJ and live drummer . They'll keep the vibe going all night long!
Two ticket types available- GA includes entry to OP Rockwell nightclub for the music and dance party/celebration. VIP Dinner and Show package includes family-style dinner served upstairs in The Rockwell Listening Room from 7-9 pm, catered by Hidden Peak Dining. See menu below. No alcohol is included- this is Utah after all. Cash Bar available- your cash. AGES 21+ only.
INCLUSIONS with Dinner + Show package: Catered Dinner served Family-style in The Rockwell Listening Room from 7-9pm, Cash Bar, Music by Fuse N' Swing Jazz Quartet during dinner. entry to OP Rockwell for NYE dance-party with music by Gold Standard, entry to reserved-mezzanine section of OP Rockwell. There is limited seating in OP Rockwell nightclub , even in the Mezzanine section. Seating is either in-use or considered available. But this is a dance party-so why are you worried about sitting down? Party 9pm-1 am.
Venue Information:
O.P. Rockwell
268 Main St
Park City, UT, 84060